Global Scholarship Century Ride
Young People's Ministries Global Scholarship gives United Methodist students, ages 18-35, the opportunity to pursue their education at a university in their home country/region outside of the United States. Over the last 5 years, $55,250 has been awarded to 51 students from 11 different countries in Africa and in the Philippines. However, over 300 students who applied did not receive scholarships. When you give to the Global Scholarship Fund, you are sending hope to regions of the world that need it most.
On November 6, 2015, cyclists around the world are invited to join Young People's Ministries Associate General Secretary, Mike Ratliff, on his first ever Global Scholarship Century Ride! He will be riding 100 miles through the state of Florida, ending at EXPLORATION in Orlando.
How can you participate?
- this will cover 1 semester hour for a Global Scholarship recipient. (Click here to access the donation page.)
- commit to riding 100 minutes to 100 miles and raise $100+ in support. (Click here to access the sign-up form)
Riders
JD Gladstone – Riding 100 minutes in Detroit, Michigan
Why Ride?
JD was challenged to use a $100 micro-grant from the local Wesley Foundation to create a "conspiracy of goodness" and thought that offering that money as a match for other donors would be a great way to raise support for the Global Scholarship Fund. He hopes to go to college someday also, so paying it forward seemed like a good idea.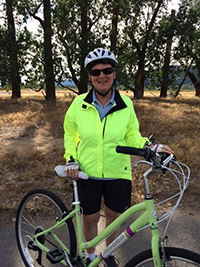 Lisa Jean Hoefner – Riding 100 miles in Lancaster County, Pennsylvania
Why Ride?
Mike's challenge and the thought of additional students being helped to get the education they so desire.
Mike Ratliff – Riding 100 miles in Orlando, Florida
Why Ride?
As I meet with young people around our globe, I am impressed by their desire to get an education. I am equally depressed by the lack of resources available to support that desire. Our Global Scholarship Fund is making a difference for those who have received funds, and I want to see more young people given access to an affordable education that can fuel a sustainable life in their own context. I also hope to motivate others to become more active physically by raising money in a way that helps me stay fit and encourages them.
Lee Ann Rice – Riding 100 minutes in Mt. Juliet, Tennessee
Why Ride?
I'm committing to riding because I believe strongly in the mission to provide scholarships to young people in our Central Conferences. I've had the privilege of personally meeting some of our passionate, young leaders in Kenya, and was overwhelmed by the gratitude they expressed at the opportunity to participate in a five day training program. I have faith that the money donated during this fundraising event will reap great rewards in the lives of the recipients, and ultimately in the United Methodist Church.
Kelsey Tinker – Riding 100 minutes in Tucson, Arizona
Why Ride?
I believe that everyone who desires a college education should receive that opportunity. On a daily basis, I am emailing with students outside of the United States who aredesperately trying to attend college,but they have no way of securing the needed funds. This is an awesome way to really make a difference around the world in regards to education.
Beth Ludlum – Riding 100 miles in Washington, DC
Why Ride?
To celebrate Mike's birthday and to support global United Methodist higher education by fundraising for global scholarships!
Dale Cancio - On Thursday (Nov 4) I will be riding from Lawy, Capas, Tarlac to Capas National Shrine.
On Saturday (Nov 7) I will be riding from Lawy, Capas, Tarlac to San Jose, Concepcion, Tarlac
Why Ride?
I am joining Mike Ratliff in this ride to (1) join Mike with this effort to raise funds for the scholarship of the young people outside the US including the Philippines (2) advocate and have fun with health and fitness through riding a bike (3) Nov 4 is also my grandma's birthday (died last June 2014), I would like to dedicate this journey for her; and (4) would like to do this weekly as an additional workout.

Elizabeth Herchek – 100 minutes in Cleveland, Ohio
Why Ride?
I was recently awarded a scholarship through an agency of the United Methodist Church and thought that this would be an excellent opportunity to pay it forward to those that are in even greater need of scholarship funds.

Kevin John Maddela - Mountain Ranges of Nueva Vizcaya
Why Ride?
To help make scholarships available to young people.

Roger Anselm Meneses - 1. Fiesta Communities, Thursday - 2. Tarlac City, Saturday
Why Ride?
Passion.
Passion in helping others and passion in adventures. :)

Chelsea Spyres - Downtown Detroit and around Belle Isle
Why Ride?
To help make education a reality to other youth and young adults around the world, especially for my friends in various countries in Africa.