Young People's Ministries has collected devotions by a group of talented Young Adult authors. Use them in your Young Adult ministry, to discuss with friends, or for your own personal study. You'll find views and thoughts from people around the world that can help you grow your faith.
If you are interested in helping young adults grow in their faith by writing about your experiences, we are always accepting applications for new contributors. Learn about how you can become a contributor here.
Current Contributor:
Tinashe Tembo is a Global Mission Fellow with the United Methodist General Board of Global Ministries, serving in Kenya. Tinashe is from Norton, in the Mashonaland West Province of Zimbabwe, where he is a member of the United Methodist Norton Circuit of the Zimbabwe West Annual Conference. He holds a Bachelor of Science degree (with honors) in social work from the Bindura University of Science Education in Bindura. He has worked for the Renewed Hope Foundation, Voluntary Services Overseas, and Gershom Ministries International Trust.
Tinashe takes the Great Commission to make disciples for Jesus Christ very seriously and is passionate about ministries with "vulnerable members of the community, volunteering his skills to ensure their well-being." Tinashe hopes to positively transform lives through the use of gifts God blessed him with. He believes God made him a first born for a reason and he was born to serve and transform lives as highlighted by the meaning of his name "God with Us".
Supporting Others Through Their Struggle with Addiction
Previous Contributors:

Carol Ann Smolka is a staff member at Discipleship Ministries, moonlights as an e-commerce expert for a local luxury fashion establishment in Nashville, and is an avid singer/composer. She's on a mission to spread love, laughter, and music wherever she goes. Find out more about Carol Ann and her adventures in music at: www.carolannsmolka.com.
Meli'sa-Kaye Robotham grew up in Jamaica. She relocated to Grenada when she was seventeen years old. There, she obtained a Bachelor of Science in Psychology and worked for different organizations. In 2016, Meli'sa-Kaye was assigned to work in Frankfurt, Germany as a Global Mission Fellow. Her position as Youth and Senior Services Associate gave her the opportunity to interact with different age groups while learning about the culture. She considers this experience to be her most rewarding and best-loved work-related experience.
Meli'sa-Kaye enjoys reading, spending time in nature, and listening to different genres of music. She also enjoys watching episodes of Peanuts and reading the comic books in German. Those are her two current favorite hobbies. In the future, Meli'sa-Kaye plans to pursue a Master's Degree in Intercultural Theology.


Alick Mvula was born and raised in Zambia. He is the youngest of three brothers. Alick completed his secondary education in 2012 and completed an advanced diploma in Media and Communications in 2014. While earning his college degree he was assigned to Liberia for two years under The General Board of Global Ministries where he worked as a Global Mission Fellow.
For Years Alick had heard about God but never had a relationship with him. After struggling with life, mental and physical abuse and bullying in school, he gave his life to Christ in 2013. He is currently volunteering on the ISHIWI (My Voice) project under Restless Development in his home Country.
Olivia Richardson
Olivia Richardson is from Jamestown New York, but is currently a senior at Houghton College where she is a double major in Inclusive Adolescents Education and English with a minor in Bible. She hopes to become a teacher who is a caring servant, helps her students pursue wonder, and shows them the love of Jesus.
Olivia grew up with her whole family being active in her home church, Bemus Point United Methodist Church, where her passion for Jesus and grew as she was encouraged and challenged to love God and love all of God's people.
Olivia enjoys reading, writing, playing music and leading worship, and staying active. Olivia also loves her family and friends, her fiancé , lakes, avocados, and all four seasons (even the western NY snow). You can follow her blog at https://rootsandfruitssite.wordpress.com
Rey Oliver Fabros
Rey Oliver Fabros (known as King) is a Global Mission Fellow of the United Methodist General Board of Global Ministries, serving for two years at the Asian Rural Institute (ARI) in Nasushiobara, Japan. He was commissioned in August 2016. He was raised in a home of a mom and dad both working as ministers for the UMC.
King is from Isabela Province in the Philippines, where he is a member of Burgos United Methodist Church in the Northeast Luzon Philippines Annual Conference. He holds a Bachelor of Science degree in Human Ecology, with a major in Human Settlements Planning from the University of the Philippines Los Baños. He has worked for the University's Society of Human Settlements Planners, the YMCA, and a number of church, university, and professional projects.
King wants to be a missionary to share the love of God. He has a passion to share his own experience of God's grace as widely as possible. He says he strongly believes that the "main purpose of our life on earth is to reach out to others and help them feel the reality of God."
Charli Chitambo
Charlotte Upenyu Chitambo, "Charli," is currently a Global Mission Fellow. In the two-year mission program for young adults between the ages of 20 to 30, Charli and others are called to serve in a different setting from their home context. In her case, Charli is serving in the Philippines as a Social Enterprise Officer at a local NGO called EcoWeb. Originally from Zimbabwe, Charli holds a B.A in Environmental Studies, with English as a minor.
Growing up, she was rather reserved. However, attending Africa University, a pan-cultural United Methodist Church Related Institution with students from over 30 countries around Africa, taught her how to respect people of different cultures and to use her skills especially for the ministry of God. She also had opportunities to serve (with) others through the various clubs and organizations, including the Peer Educators Club and singing in two choirs on campus. Her experiences at Africa University, both in and outside the classroom, have shaped her into the person she is today.
Charlotte enjoys being in nature and believes that humans should be good stewards of the environment by being accountable for the environment and for each other. Music is part of her life - she enjoys writing and poetry and believes that these can be used as tools for spreading the gospel as well as tools for development. Lastly, she believes that each and everyone was given talents that can be used for the glory of God.

Kiyaka Brian is a financial consultant working with General Electric Company based in Nairobi, Kenya. He is a graduate of The Technical University of Kenya, earning a Bachelor of Science degree in Economics. Apart from loving working with numbers he is an outgoing person who enjoys socializing and making friends.
Brian loves reading business articles, watching movies and documentaries, and also enjoys other outdoor activities like hiking and travelling. Having grown up in a Christian family with strong Christian beliefs, he honors and defends the gospel at all times and sharing it is always a priority where its required. His favorite color is blue.
Vivian Mutambi is a global mission fellow currently serving at the Women's Action and Support Centre (W.A.S.C) in Manicaland, Zimbabwe. She is a Kenyan citizen with a Bachelor of Commerce degree and pursuing an M.B.A in operations management.
She is passionate about mission work especially youth and women's ministries. During her free time, she likes watching movies, listening to music, and reading inspirational literature.
Kathryn Cronin, also known as "Scream" by many, is the program coordinator of Idaho Mission Project (IMP), a mission trip program run out of Twinlow Camp and Retreat Center in Northern Idaho. Since her first summer as a counselor, she has been drawn to the connectedness that is fostered by camp and its intentional community. Though she calls herself a Washingtonian, she grew up as a missionary kid in Mexico and has a hard time calling one place home. Her experience in missions lends well to her job as the organizer and occasional speaker for her program. She graduated from Western Washington University in 2015 with a bachelor's degree in English, and has plans one day to go back to school to become a teacher.
Angara is a Kenyan graduate student of Kenyatta University with a bachelor's degree in Art and Design. She is a current Global Mission Fellow (International Track) serving the children of Seoul, South Korea as their Activity Advisor. Makhupe's upbringing as a child coupled with her love of reading has left her with many lessons and experiences to share with youth. Her passion to serve others has inspired her writing as she believes knowledge is power and sharing is caring – a form of complete service. For more about Angara, follow her blog: shalom254.wordpress.com
B.T. Gilligan
William (B.T.) Gilligan is the senior pastor of Nixon UMC in the Western Pennsylvania conference of the United Methodist Church. He was appointed there in 2017 and since then has been working hard to meet people and get to know the area. B.T. attended Indiana University of Pennsylvania where he earned a degree in Criminology and World Religions. B.T. is also a graduate of Pittsburgh Theological Seminary having earned a Masters of Divinity degree. In 2013 B.T. was ordained a full-elder and has been joyfully serving churches since then. B.T. currently lives in Butler, PA with his wife Amanda and two children Samuel and Olivia. Besides spending time with family B.T. enjoys skiing and reading.
Karanja Peter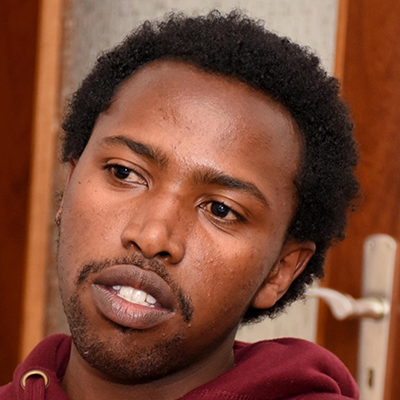 Karanja Peter is a graduate of Africa University with a Bachelor in Divinity. He is an Alumni of both the Global Justice Volunteer and the Global Mission Fellow programs of Generation Transformation of the Global Ministries of the United Methodist Church. After working alongside the marginalized far from his home context (in the Philippines and Germany), he has found the need to be in solidarity with communities that suffer injustice, no matter the locality. Peter has a great passion for Social Justice and Holiness and sees the Church as a catalyst of social transformation, bringing healing to unjust social systems.
During his free time he volunteers to charitable organizations, namely Panua Partners in Hope, Molo Children Home and Naivasha Children Shelter. Peter is currently serving as Youth Coordinator in Trinity United Methodist Church and as a visiting preacher to local churches within, Naivasha Kenya.
Rachel Ann Labasan
Rachel Ann Labasan is a 22-year-old licensed teacher and a graduate of the first Deaconess-training institution in the Philippines at Harris Memorial College. She loves writing, and was editor-in-chief both of her high school and college publications. However, she describes herself as a reader more than a writer. She's interested in fictional novels and a fan of F. Sionil Jose – a prominent Filipino writer (perhaps because he was the only author she met face to face).
She enjoys teaching children in Sunday school and leading young people in bible study. To her, being able to guide youth through the challenges they face is the most tangible way of carrying out our Christian duty to represent grace to where grace is most needed. Alongside her teaching loads, she is a choir conductor/accompanist to her local church appointment – Bayombong United Methodist Church. Rachel Ann also has an inexplicable love for hymns.
Vanessa Small
Vanessa Small is a 2011 graduate of Indiana Wesleyan University with a degree in children's ministry and biblical literature. She currently resides in Florida, where she serves as the children's director at her church and enjoys spending time with her nephew.
Vanessa has written several books including a series of gift books for ministry workers, a children's chapter book series, a devotion book, and VBS curriculum. You can follow her blog at smallpublishing.wordpress.com.
Caitlin Hankins
Caitlin Hankins, from Wilmington, North Carolina, currently attends East Carolina University, persuing a degree in Elementary Education. After college, she intends to teach in a low-income school and spend her summers working overseas, to help impart the importance of Education around the world.
Growing up, she has been very involved with her home church and is now involved with a church and college ministry, called FUSE at East Carolina. She was a leader with the North Carolina United Methodist Conference Youth Ministry, which provided her with the opportunity to go to Rwanda with ZOE Ministries, a trip that inspired her to help others and make a difference for the kingdom of God.
She is a lover of the beach, writing, anything involving music and her cat, Precious.
Alex Ganaden
Alex Ganaden, 24, is a public school English Teacher also studying for her Master's Degree in Language Teaching. Alex has served as one of the Annual Youth Presidents in the Philippines for the past three years and also serves as worship leader at her local church. Writing has been one of her greatest passions and has been a source of bright and wonderful ideas in ministry.
Alex has also written music, both in Tagalog and English, for her local church. She hopes that her writing can be of help to others. It is in this hope that God's instructions and promises shall be revealed to those who are in need of it, as it has been revealed to her.
Jay Campbell
Jay works in youth ministry in Fairfax, Virginia. He enjoys playing basketball, loves reading comic books, and playing board games. Jay an aspiring writer and loves being in the water. During his free time, you can catch him hanging out with his dog Rue.
Kevin John Maddela
Kevin John Maddela, also known as Kejo to his colleagues and friends, is the current National President of the United Methodist Youth Fellowship in the Philippines. He graduated with a BS in Political Science at Saint Mary's University and is currently pursuing a Masters of Arts in Communication Arts at Philippine Women's University. Kevin John is also passionate about Contemporary Music, Journalism and Media, skills he utilizes in his involvement in various ministries in the church. He serves as a worship leader in his local church as well as in their worship band called Choseneration and the merged groups called DYU. Together with other youth leaders, they are bringing music and missions to various places in the Philippines.
While doing his ministry in the Metro Manila, Kevin John is currently employed as a Team Assistant with Discipleship Resources, Philippines. Kevin John began his personal journey with Jesus at twelve and has never looked back. Now, at twenty-four years-old, he continues to be a leader in the church.
Grace Killian
Grace Killian is a lay member of the Western Pennsylvania Annual Conference and a graduate of Brandeis University in Waltham, MA where she majored in International and Global Studies and Music. She is an alum of the Global Mission Fellows program through which she served in Bethlehem, the West Bank for 20 months. Most recently, she served through the Western Pennsylvania-Eastern Germany Conference Partnership in Chemnitz, Germany, supporting the work of Methodist congregations to welcome refugees in their communities. In 2016, she began a dual degree program pursuing a Master of Divinity from Harvard Divinity School and a MA in Law and Diplomacy from Tufts University.
Connor Kenaston
God's Call: The True Vine Keeps Growing
God's Call: More Than Your Job
Connor Kenaston, 24, currently serves as a Global Mission Fellow, US-2 in Columbia and Ferguson, Missouri. In this capacity, Connor works on issues related to racial justice advocacy in and through the Missouri Conference of the United Methodist Church. He created the Faith and Race Podcast and Small Group Curriculum, an interview series designed to help churches host constructive dialogue about faith, race, and the church. Connor also works at Wellspring Church and the Center for Social Empowerment and Justice in Ferguson, Missouri, where he assists in a variety of ways including special event planning, social media consulting, and designing Ferguson Immersion Seminars for college students and youth. As a young adult missionary for the United Methodist Church, Connor seeks to engage the local community, connect the church in mission, and grow in personal and social holiness.
Connor grew up as a "pk" (pastor's kid) in West Virginia and still considers the state home. He graduated from Yale University in 2014 with a BA in history, focusing on 20th century social movements in the United States. After his missionary service ends, Connor will pursue a PhD in History at the University of Virginia where he will focus on the intersection of race, gender, and labor in Appalachia and the American South. In his free time, Connor enjoys hiking, reading, and playing the guitar.
Sarah Wilcox Smoot
Sarah Wilcox Smoot is a US-2 Mission Fellow of the United Methodist General Board of Global Ministries. Commissioned in July 2014, Sarah serves with the affiliates of Interfaith Worker Justice (IWJ) in Madison, Wisconsin. With IWJ Sarah organizes clergy and laity in local efforts to promote economic justice, offers guest sermons relating the Christian faith and scriptures to economic issues, and assists workers in learning workplace rights and addressing violations of their rights. Sarah is fluent in Spanish and English and enjoys working with Latino workers, churches, and communities in the effort for worker justice.
Sarah also worships and serves with Servant Community, a United Methodist new-faith-start in Sullivan, WI. She teaches Sacred Dance, a free community dance class for prayer and praise of God through dance, and helps to plan and lead worship services of Servant Community.
Sarah is from Birmingham, Alabama, where she is a member of Canterbury United Methodist Church and a candidate for ordination as an Elder in the North Alabama Conference. She holds a Bachelor of Arts in Spanish and English from Sewanee: University of the South, and a Master of Divinity from Duke Divinity School. She has served as a youth and children's minister at Wesley UMC in Hartsville, South Carolina, as a pastoral intern at Iglesia de la Santisima Trinidad in Mexicali, Mexico, and has performed professionally in modern and contemporary dance companies. Sarah is happily married to Tyler Smoot, who also serves as a US-2 missionary. Tyler helps adults achieve their GED (High School education equivalent) and leads the music ministry of Servant Community. Sarah and Tyler have been missionaries for about as long as they've been married, which they think is pretty cool.
Minoka Gunesekera
Faithfullness and the Reasons Behind It
Minoka Gunesekera is a first generation American who enjoys learning about her Sri Lankan heritage. A second year seminary student at Duke Divinity School in North Carolina, Minoka was born and raised in Blacksburg, Virginia. She is obnoxiously loyal to her undergraduate school, Virginia Tech, where she got a degree in public and urban affairs and was involved in the Wesley foundation. Minoka now works with undergraduate students as both a Resident Assistant and through Duke Voices for Interfaith Action.
She is passionate about the UMC, both as an institution and as a group of people. She has interned at the General Board of Church and Society, where she nurtured a love of advocating for social justice issues. Thanks to the many great teachers, preachers, and friends in her lives, she also enjoys helping young people find their place in the Church and into a relationship with God.
Minoka also enjoys coffee shops, college football, cooking, traveling, and laughing (among other things!). She is currently on the ordination journey in the United Methodist Church and hopes to serve God's people by reminding the world of God's love and grace.
Previous Sadadzi
Previous Sadadzi, 26, was born the town of Mutare, Zimbabwe. She graduated with an honors degree in Accounting from Africa University in Zimbabwe in 2013 and, afterwards, worked as teacher for two years. Previous currently serves as a Global Mission Fellow, working in ministry with children in Germany with International Migrant Ministries.
When she was young, Previous was raised in a home for the underprivileged. She wrote stories and songs about her life but never had the opportunity to share them with many people. Due to the urging of her high school best friend, she found the voice to share her story and her songs. She believes that since the Lord Almighty has been with her throughout her life, her writing might be able to change someone's current situation.
Previous loves reading the bible and novels with a Christian background. She also enjoys learning how faith can be shared among people from different cultures and backgrounds. In her free time, she likes travelling, especially to the beach and water. The gift that she thanks the Lord the most for providing is her passion for singing because she believes music is great source of hope, faith and love.
Ashley Wilson
Ashley Wilson, 24, is a soon to be biblical studies graduate from Belhaven University. In the future, she plans to pursue an MD/MDiv. One of the many things she remembers about growing up in her town of Meridian, MS, was the lack of positive and enjoyable activities for youth. This, accompanied with her desire for others to know their worth in Christ, prompted her to start Crown'd Incorporate in 2015.
Crown'd Incorporated is a 501©(3) non- profit organization, whose mission is to instill self-worth, dignity, and ethics into the youth of today by creating spiritual roots, watering Christ given talents and passions, and increasing community involvement, so that their fruits can be shared world-wide. Crown'd Incorporated seeks to do this by offering numerous enrichment classes including: dance, step, drum, health and wellness, and art. Members also participate in monthly bible studies, community service and events, field trips, and competitions.
Ashley believes that Christ-given vison matched with passion is needed in today's times. God is calling generation of young, bold, and faithful believers. She is not only excited to be one of them, but also to ignite other for the mission as well!
Keep in touch with Ashley on Facebook or Instagram.
Amber Feezor
Amber Feezor is a Global Mission Fellow US-2 with the General Board of Global Ministries. She is currently serving in Washington, D.C. with the General Board of Church and Society. She is a 2010 graduate of Arkansas Tech University, where she received her B.A. in journalism and public relations.
Amber is passionate about social justice, specifically regarding children and food security. She is also interested in ethical and sustainable business models, and encouraging conscious consumerism.
In her free time, Amber enjoys reading, writing, and creating visual art. You can follow her blog at themethodistnun.tumblr.com.
Samantha Tidball
Samantha grew up in western Michigan, graduating from Calvin College with a degree in rhetoric, communications, and youth ministry. In 2008, she got married and moved to Nashville to pursue a career in youth ministry while her husband attended Vanderbilt University to earn his PhD in neuroscience. During her time in Nashville, Samantha completed a two-year certification at the Center for Youth Ministry Training (CYMT) while attending classes at Vanderbilt Divinity School and Memphis Theological Seminary. She spent most of her time in Tennessee reflecting the love of Christ to teens and their families as the youth minister at a United Methodist church.
Now residing in Ann Arbor, Michigan, Samantha spends her days raising her two young and very spirited children. Currently, she writes youth curriculum for the United Methodist Publishing House. During this season of life as a stay-at-home mom, she desires to continue inspiring young people through writing and mentoring. You can read more of her writings on her blog, samtidball.blogspot.com/.
Mary Kuronzwi
In Every Promissed Land there is a Giant
Who Are You Rubbing Shoulders With?
Mary Kuronzwi is a 25 year-old from Zimbabwe. She graduated from Bindura University of Science Education with a Bachelors' Degree in commerce in Purchasing and Supply.
Mary is currently a Global Mission Fellow with the General Bboard of Global Ministries of United Methodist Church. As part of her mission work, she is working with children and youth at Tallinn Methodist church in Estonia. Mary decided to become a missionary because her experiences have made her very passionate about serving others.
Tau Jokonya
Patience: The Missing Link for our Generation
Tau Jokonya is Global Mission Fellow based in Frankfurt, Germany. A native of Zimbabwe, Tau is a graduate from Africa University where he majored in English.
Tau's many interests were nurtured during his time at Africa University. While in his second year, he founded a club that advocated for social justice, especially for young children born or living with H.I.V. He became the president of another club (Fairfield Buddies, now called Buddies) that worked with orphans living in nearby orphanages. He was also an active member of the Chaplain Committee, serving as the Sunday school teacher for one academic year, before being elevated to chairman of the worship. Tau had other responsibilities as well: he was the Faculty of Education Representative, the chairman of the Electoral Committee and a sub-warden in the halls of residence. He is interested in sports, especially soccer, and he became the first student to coach the Africa University soccer team. He also enjoys writing and has a yet-to-be published novel.
Tau is passionate about helping people, especially youth, realize their dreams. He speaks fondly about believing in the Lord, believing in oneself, hard work and the importance of being disciplined. Tau is also a Youth Pastor in Eternal Word Ministries International, where he has been a member for the last decade. In the future, he aspires to start an organization that works with youth and to open an orphanage.
Taylor Hathorn
He Will Not Come Where He is Unwelcome
Taylor Hathorn is a student at Mississippi College who hails from Waynesboro, Mississippi. She is currently pursuing a major in English (with a writing emphasis). She is involved in the campus Theatre department, and is a lover of reading (her favorite book is The Book Thief), writing, stained glass, and hymns (her favorite is Abide With Me).
Tayolor plans to pursue a Master of Divinity upon the completion of her college education, and she is thankful every day for the opportunities afforded to her by her family, by her home church (Waynesboro First United Methodist), and by the United Methodist faith community as a whole. You can visit her blog at www.ramblingsonredemption.wordpress.com, and you can interact with her on Twitter @_youaremore_.
Joy Kitanga
The Effectiveness and Power of Prayer
Joy K. Kitanga is a second year student at Duke Divinity School who was born and raised in the United Methodist Church in her native country, the Democratic Republic of Congo. She moved to the United States in 2002 to pursue her education in the medical field.
In 2010, Joy received a call to ministry while working towards her Bachelor's Degree in Respiratory Care at Salisbury University in Maryland. Before then, her faith journey had been mostly influenced by her parents and was then by the wisdom of pastors and congregations. Joy experienced transformation in life by overcoming many challenges. She is grateful to God for her faith and guidance, and to family and friends for spurring her through the journey.
Joy also loves music, enjoys family and friends, volunteering, doing mission work, and exploring new things. She is also a licensed respiratory therapist in Maryland. She attends church regularly, believing it is the best place to be because, "I am reminded that 'like the clay in the hand of the potter, so [am I in the] hand of God'" (Jeremiah. 18:6). She is happy and blessed to know that her friend and mentor is the one God chose as her lifelong and spiritual partner.
Joy currently works as an intern at Durham Interfaith Hospitality Network (DIHN) in Durham, North Carolina, where she hopes to learn in-depth about her calling into women and family ministry. She is still working toward her goals, but believes God's plan for her includes becoming an ordained elder in the United Methodist Church.
Jeremiah Bohol
Jeremiah is a graduate of psychology in Cebu Normal University. After graduation, his passion to help people motivated him to pursue a Masters degree in Clinical Psychology. He has previously previously worked as a professor and taught psychology on a college level in Cebu, Philippines, where he also resides. He is also an active youth leader, acting as the vice president of a national youth organization in the Philippines.
Jeremiah also enjoys traveling, having already seen sites around the Philippines and Asia. It is his ultimate goal to roam around the world someday trying different street foods. He also enjoys playing musical instruments and has previously been a worship leader in his church.
Moreover, he is really fond of coffee and begins his day with a cup, a book at the side and a nice music.
Ann Lea Santiago
My Brand New Everything: On a Daily Christmas Eve
The Lady Who Climbed Downwards
When the Word "Impossible" Was Taken Out of My Vocabulary
Ann Lea Santiago, 23, was born and raised in Bocaue, Bulacan, Philippines and is a graduate of Bulacan State University. There she served as a writer and editor for the university's student publication, one of the leading student publications in the region. With her passion in writing, she's won several awards in writing competitions, worked as a young journalist, and joined a number of youth and social concern organizations in the Philippines.
Ann Lea has always wanted to be used by God in every way possible. As a lifelong singer, she also serves as a worship leader in her church (Dream Builder Ministries). She also acts as the Director of their church's Creatives and Designs Team where she manages to promote God and organizes church activities. She believes that all that she does is for God's glory and has never failed clinging to a very inspirational statement: "God enables the called". For her, these gifts were designed by God for a wider and better purpose, to bring more souls to Christ our God.
Floyd Alcantara
Floyd Alcantara is a young pastor from Manila. Floyd was originally an artist, graduating with a bachelor's degree in Fine Arts (Painting). His faith and his artistic background inspired him to pursue a ministry that would encourage people, especially young people, to seek God in creative ways. Floyd developed a passion for ministering to the next generation while serving as a youth and worship leader in his home church.
Floyd finished his Master of Divinity at the Union Theological Seminary in the Philippines. Currently, he is the chaplain of the Kapatiran-Kaunlaran Foundation Inc. (KKFI), the social-outreach arm of the United Methodist Church in the Philippines, where he leads a student ministry for over 200 students living in the KKFI dormitory. Floyd lives in Manila with his wife, Jen.
Kyle Wyman
Kyle is a graduate of Temple University, where he received his B.A. in English and Religious Studies. He also graduated from Wesley Theological Seminary with a Masters in Divinity. He grew up in Southeast Pennsylvania and recently returned there after spending several years New York. Kyle is currently seeking work in the Philadelphia area as he discerns his call and how best to serve God in the world.
He recently completed a residency as a hospital chaplain at New York Methodist Hospital located in Brooklyn. He is considering pursuing a career in counseling or higher education. He is passionate about how philosophy and existentialism impact our daily lives and the space for God in the postmodern world.
Additionally, Kyle is a lover of cinema, especially horror movies. He enjoys reading, exercise, and writing/musing on the vagaries of existence. Kyle also has a pet hedgehog named Zora, of whom he is very fond.